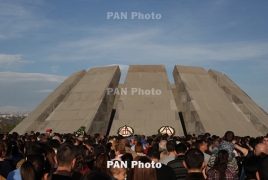 February 28, 2018 - 10:50 AMT
PanARMENIAN.Net - Armenia has presented a resolution on Genocide Prevention during the latest session of the United Nations Human Rights Council which will mark the 70th anniversary of the UN's Genocide Convention, foreign minister Edward Nalbandian said on Tuesday, February 27.
"In 2015 upon the initiative of Armenia the United Nations Human Rights Council passed a unanimous Resolution on the Genocide Prevention," Nalbandian said at the high level segment of the 37th session of the UN Human Rights Council.
"In its development, again upon our initiative, the UN General Assembly assigned December 9 as an International Day of Commemoration of the Victims of Genocide. As recently the United Nations Under Secretary General Mr. Michael Møller stated, 'Armenia has become a leading voice for safeguarding the importance of the 1948 Convention on the Prevention and Punishment of the Crime of Genocide'.
"During this session of the Human Rights Council Armenia presents a resolution on Genocide Prevention which will mark the 70th anniversary of the Convention with specific recommendations for actions and reflect on the activities of the UN and its member states in this regard..
"On December 9 we will host the Third International Global Forum Against the Crime of Genocide in Yerevan. It will stand as a solid platform for manifestation of our collective resolve against the recurrences of this heinous crime, for raising awareness and promoting education for the prevention of Genocides."
Some three dozen countries, hundreds of local government bodies and international organizations have so far recognized the killings of 1.5 million Armenians in the Ottoman Empire as Genocide.
Turkey denies to this day.