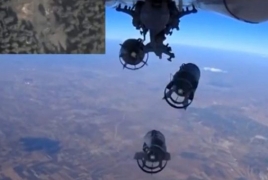 March 3, 2018 - 10:39 AMT
PanARMENIAN.Net - Russian warplanes have once again gone all-out over the skies of Damascus' East Ghouta region, laying down a heavy bombardment onto a range of militant targets, Al-Masdar News reports.
In an attack carried out during the night hours of Friday to Saturday (March 2-3), Russian airpower started off by striking the militants' tactical positions and gathering points near the Syrian Army's axis of advance in East Ghouta.
However, later it become apparent that militant forces were organizing for a counter-blow when reconnaissance sorties identified several military convoys heading towards Syrian Army lines near Ash-Shifunyah.
Using precision weapons, Russian warplanes interdicted the convoys at the militant -held towns of Masraba, Beit Sawa, Hazza and Hamouryah.
At least thirty airstrikes were delivered onto insurgent targets during the course of the engagement.
According to journalist Ibrahim Joudeh, the Russian bombardment succeeded in breaking up the militant convoys and forced surviving militant elements to retreat, thereby preventing what was obviously going to be a powerful counter-offensive.