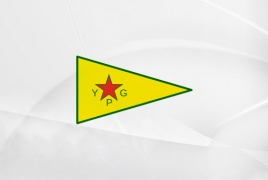 March 6, 2018 - 17:07 AMT
PanARMENIAN.Net - Official US military sources have confirmed rumors that began to emerge on late Monday, March 5 afternoon that Syrian Kurdish forces were withdrawing additional key units from the fight against Islamic State militants in in the country's east towards Afrin to fight Turkey, Al-Masdar News reports.
In recent hours, sources in the Pentagon admitted that Kurdish armed groups backed by it have decided to 'leave' the fight against IS remnants in the middle Euphrates valley region to 'fight elsewhere, possibly in Afrin (the only other front where Kurdish forces are engagement in Syria).'
Despite the vagueness of the Pentagon statement, it is clear that the US in now admitting to the departure of Kurdish forces from battles against Islamic State insurgents both in the past six weeks since the Turkish Army and allied militias kicked-off their Afrin operation and still currently.
To this effect, opposition sources noted on Monday that additional Kurdish units disengaged from their operations in Raqqa and Deir ez-Zor provinces to instead fight the Turkish Army and Ankara-based militias in Afrin.
The last month has already seen the Kurdish Peoples' Protection Units (YPG) group pull a major component of its forces out of eastern Deir ez-Zor province towards Syria's northern border with Turkey in response to Ankara's Afrin operation and threats of similar anti-Kurdish operations in the Raqqa, Hasakah and Manbij regions.
With the withdrawal of Kurdish forces from the middle Euphrates valley region, the main US-backed group now fighting IS is the Deir ez-Zor Military Council.