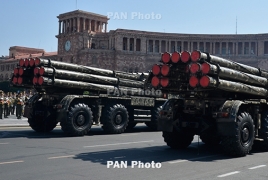 March 12, 2018 - 18:12 AMT
PanARMENIAN.Net - Armenia is the world's 54th country in terms of the volume of armament imported in 2016-2017, according to a report by the Stockholm International Peace Research Institute (SIPRI).
The Institute says the arms exports to the country amounted to $124 billion in the two years under review.
Armenia, in particular, has imported 6 Smerch heavy multiple rocket launchers, 200 Verba surface-to-air missile (SAM) MANPADS, as well as 9M133 Kornet anti-tank guided missiles, all produced and delivered by Russia.
Azerbaijan meanwhile, is the world's 27th country, having imported arms and ammunition worth $551 million in the reporting period.
As of 2017, Azerbaijan has purchased 4 units of OPV-62 offshore patrol vessels, 40 Orbiter-1K drones, 215 units of Spike-NLOS anti-tank missile systems from Israel, and 10 units of 122-mm RM-70 multiple rocket launchers from the Czech Republic.
Furthermore, Russia has supplied Azerbaijan with 36 units of TOS-1 heavy systems, 40 units of BTR-82A armoured personnel carrier, 800 units of 9M123/AT-15 anti-tank missiles, and 24 units of 9P157-2 Khrizantema-S anti-tank missiles.
Also, Baku has acquired 18 units of Dana wheeled self-propelled artillery pieces from Slovakia.