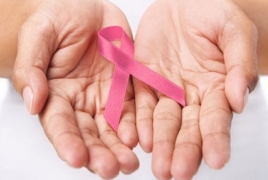 March 16, 2018 - 15:12 AMT
PanARMENIAN.Net - Australian cancer researchers have made a breakthrough that could lead to an effective treatment of multiple myeloma, an incurable form of blood cancer that affects 750,000 people globally, News.co.au reports.
Multiple myeloma grows in the bone marrow and mainly impacts older people, with the average age of diagnosis being 70 years.
Treating it has remained a "medical mystery" for doctors, however, the discovery of a new biomarker may soon change that, researchers at the QIMR Berghofer Medical Research Institute say.
Published in prestigious journal Cancer Cell, a study on 152 patients with multiple myeloma, led by scientists at QIMR, found a particular molecule called IL-18 suppressed the immune system to help create a bone marrow environment that allowed the cancer to grow.
The study analysed the impact of IL-18 on 152 patients with multiple myeloma and found strong evidence that high levels of the molecule were associated with poorer survival.
Senior scientist Professor Mark Smyth says IL-18 works as an immunosuppressive, so basically ends up suppressing T-Cells which are the body's protective mechanism against cancer.
"If a patient presents with a very high level of IL-18 then they have a very poor outcome, whereas those who have low levels have a much better outcome," Professor Smyth said.
Its identification not only represents a new way to predict a patient's prognosis, but could lead to new curative drug therapies.
"We have identified IL-18 as a new potential target; we can make anti-bodies to IL-18 exist already, so variations on those or the original antibodies could be useful, in fact, in treating the disease," Professor Smyth said.
Most older patients can't tolerate many of the current treatments which means they experience poorer outcomes compared with younger patients, Professor Smyth says.
"Our hope is this will be a new approach in treating people and will be of benefit to all patients," he said.
The Leukaemia Foundation has welcomed the discovery of the biomarker, hailing it as an important step towards more personalised care of people living with this type of blood cancer.
As a result of the disease, bones can become weaker and break more easily. Patients also experience anaemia, bone pain, kidney damage, frequent infections and increased bleeding and bruising.
"Prioritising research that will achieve tangible outcomes for people living with cancer today is an essential part of the research equation," Leukaemia Foundation CEO, Bill Petch, said.