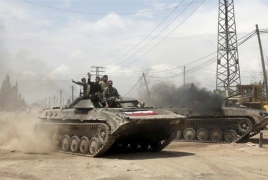 March 26, 2018 - 13:27 AMT
PanARMENIAN.Net - Heavy clashes between Al-Qaeda affiliate militia Ha'yat Tahrir al-Sham (better known by its former name, Jabhat al-Nusra) and rival Islamist group Jabhat Tahrir Souriya continue in the western countryside of Aleppo province, Al-Masdar News reports.
In line with its military doctrine, Ha'yat Tahrir al-Sham has been the one doing most of the attacking, whilst Jabhat Tahrir Souriya has been on the defense, repelling wave after wave of attack against its positions across western Aleppo.
Several days ago, Jabhat Tahrir Souriya repelled another big attack on the village of Blinta, destroying at least one BMP-1 armored fighting vehicle (shown above); the rebel group claims that an entire squad of Ha'yat Tahrir al-Sham fighters were present inside the vehicle and died as a result of it being struck.
Last week has seen dozen of Ha'yat Tahrir al-Sham gunmen killed in various (failed) attacks by the Al-Qaeda affiliate militia against Jabhat Tahrir Souriya strongholds across western Aleppo.
Jabhat Tahrir Souriya is a merger between Ahrar al-Sham and Harakat Noor al-Din al-Zenki, many of its fighters and commanders are linked to the Muslim Brotherhood.