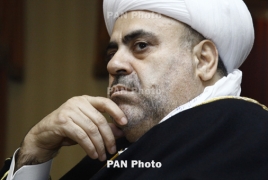 March 29, 2018 - 11:07 AMT
PanARMENIAN.Net - Armenians have became 'a curse on Azerbaijan's head', Grand Mufti of the Caucasus, Chairman of the Caucasian Muslims Office (CMO), Sheikh-ul-Islam Haji Allahshukur Pashazadeh has said, according to APA.
"Armenians, who 200 years ago, by the will of Allah, became our neighbors, have unfortunately became a curse on our heads," the cleric was quoted as saying.
He noted that 'other neighbors and forces' allegedly used Armenians' 'meanness'.
During these 200 years, Armenians 'committed genocide' against Azerbaijanis 'not on their own', he said.
"Separatist forces always stood behind them," he added.
Pashazadeh accused Armenians of allegedly desecrating mosques that 'remained on the historic Azerbaijani land.'
Also, he said Armenians intend to continue the Nagorno Karabakh conflict, giving it a religious character.