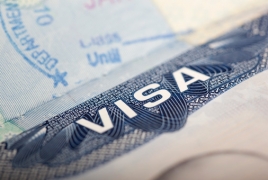 April 5, 2018 - 16:16 AMT
PanARMENIAN.Net - Starting from April 3, Russian-Turkish company VisaMetric won't be able to accept applications of Armenian citizens for Schengen visas due to technical problems.
The applications will continue to be accepted and processed by the Visa Department of the German Embassy.
As reported earlier, the German embassy in Armenia will stop processing applications for Schengen visas for Germany, Belgium, Netherlands, Luxembourg and Austria starting from April 3 and transfer the function to VisaMetric. As it turned out later, VisaMetric is a Russian-Turkish consortium.
Armenia's justice ministry later blocked the processing of personal data of Armenian citizens by VisaMetric, a Russian-Turkish consortium, which means the company cannot collect or coordinate or transfer or use such information by the end of inspections currently underway.
The ministry is now conducting inspections to reveal whether trusting Schengen visa services for Armenian citizens to the Turkish firm complies with the country's legislation.