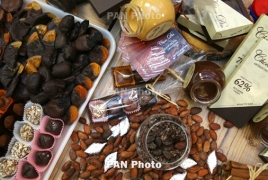 April 10, 2018 - 14:18 AMT
PanARMENIAN.Net - Scientists are uncovering evidence that turns chocolate from an enemy of the waistline to a virtue for emotional and sexual well-being.
According to a new TV series, giving chocolate to someone you love makes them feel aroused and stimulates the same hormones as love-making.
This is in part because it stimulates oxytocin - the same hormone that the brain releases when people are hugged or kissed.
The role of chocolate and the chemicals it affects is explored in a TV series on the Food Network called Food: Fact or Fiction?
Levels of oxytocin - also known as the 'cuddle hormone' - play a role in empathy, bonding and orgasms.
As part of the show it was found sharing chocolate with a loved one increased oxytocin levels.
'Apparently, giving chocolate to a loved one means you feel loved and cared for and a bit aroused', a spokesperson from the Food Network told the Express.
This is supported by nutritionist Professor Andrew Prentice of the Medical Research Council's International Nutrition Group.
He said chocolate-lovers benefit from oxytocin as it induces relaxed feelings in their brains.
It is also released during orgasm and may keep depression at bay during dark winter months, he told Net Doctor.
In separate research, Professor Prentice and his team gave 30 people 40g of dark chocolate over a period of 14 days.