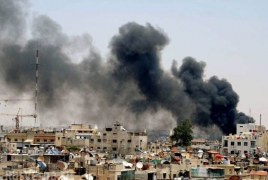 April 12, 2018 - 09:43 AMT
PanARMENIAN.Net - The Syrian Arab Army (SAA) is preparing to kickoff their long-awaited offensive to retake the southern districts of Damascus, Al-Masdar News reported citing a military source.
Led by their Republican Guard and 4th Division, the Syrian Arab Army has taken up their positions around the Islamic State (ISIS) held areas in the Yarmouk Camp and Al-Qadam districts of southern Damascus.
Joining the Syrian Arab Army on the offensive will be their Palestinian allies from the Popular Front for the Liberation of Palestine-General Command (PFLP-GC), Fatah Al-Intifada, Liwaa Al-Quds, and Qawat Al-Jaleel.
According to a military source in Damascus, the offensive is ready to launch in the coming hours, despite the looming threat of a potential U.S. attack.