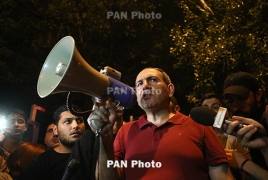 April 16, 2018 - 17:30 AMT
PanARMENIAN.Net - One of the organizers of the mass protests in Yerevan, MP Nikol Pashinyan was injured during the demonstrations on Baghramyan Avenue.
Pashinyan was hospitalized to one of the medical centers of the capital where he was provided the first medical aid.
In the interview with Azatutyun Radio Station Pashinyan said that he was injured while trying to cross barbed wirefences. He was also hurt by the explosion of a flash grenade released earlier.
During the clashes in the city several other protesters and policemen were injured as well. As reported, 3 policemen were injured by the explosion of the flash grenade they had released.
The press speaker of Ministry of Health, Anahit Hayatyan reported to PAN that the exact number of the injured is still being clarified.
The Armenian opposition holds mass protests against the ex-president Serzh Sargsyan becoming the new Prime Minister. Since the morning of April 16 the opposition has been making protests in the center of Yerevan. The parliament where Sargsyan's party has majority will be electing the Prime Minister on April 17.