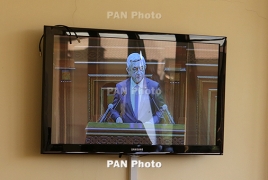 April 17, 2018 - 17:17 AMT
PanARMENIAN.Net - Armenian third president, Serzh Sargsyan was elected as a Prime Minister as the result of the elections in the parliament. Sargsyan received 77- for and 17- against votes.
Republican Party and the Armenian Revolutionary Federation voted for the candidacy of Sargsyan. Several opposition MPs did not take part in the elections as they continued protesting in the streets.
For 5 days in row the opposition holds mass protests against the ex-president, Serzh Sargsyan becoming the Prime Minister of the country. Yesterday, 46 people were injured during the clashes between the police and protesters. The injuries were caused by the special measures that had been taken by the police. One of the organizers of the protests, MP Nikol Pashinyan was also injured who soon recovered and returned from the hospital.
Sargsyan rules Armenia in the role of a president since 2008. In 2015 Armenia had a constitutional referendum as a result of which the form of government has changed from semi-presidential to parliamentary. Opposition protests against Serzh Sargsyan being elected as Prime Minister․