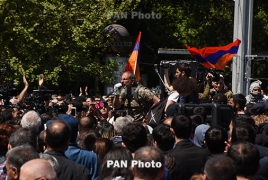 April 22, 2018 - 18:20 AMT
PanARMENIAN.Net - On April 22, spokesperson for Foreign Affairs and Security Policy/European Neighbourhood Policy and Enlargement Negotiations, Maja Kocijancic released an official statement on the situation in Armenia.
The statement was published on the EEAS official website highlighting that "the right to exercise freedom of assembly in a peaceful manner and in accordance with the law is a universal and fundamental right of all."
The statement also said "the European Union expects the Armenian authorities to fully respect this right and to apply the law in a fair and proportionate manner, in accordance with Armenia's international obligations, including in particular under the European Convention on the Protection of Human Rights and Fundamental Freedoms. All those who have been detained while exercising their fundamental right of assembly in accordance with the law must be released immediately."
"It is of utmost importance that all parties involved show restraint and act responsibly. An inclusive dialogue, as President Arman Sarkissian has called for, aimed at an immediate and peaceful resolution of the current situation is essential. It is therefore disappointing and worrying that today's short meeting between Prime Minister Serzh Sargsyan and MP Nikol Pashinyan did not prevent further escalation", concluded the statement by Kocijancic.
On April 22, a short meeting between Serzh Sargsyan and Nikol Pashinyan took place. During the meeting Pashinyan stated that only the question of Sargsyan's resignation can be discussed. "A party which received 7-8% votes from the people has no right to talk. If you don't want to follow the legal requirement of the government then goodbye", answered Sargsyan and left.