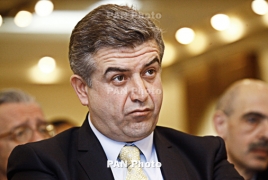 April 23, 2018 - 14:33 AMT
PanARMENIAN.Net - First Deputy Prime Minister, Karen Karapetyan announced that he will be applying to Chief Prosecutor for recalling the arrest of Pashinyan, Mikayelyan and Mirzoyan from parliament.
As a result the MPs will be released.
Karapetyan also announced that he will meet Pashinyan to look for solutions of the situation.
Earlier negotiations between Sargsyan and Pashinyan which barely lasted for 5 minutes took place. During the meeting Pashinyan stated that only the question of Sargsyan's resignation can be discussed. Sargsyan answered that Pashinyan does not realize the amount of responsibility and had not learnt lessons from the events of March 1. As an answer to that Pashinyan stated that Sargsyan does not control the situation anymore and that the "the power has been passed to the people". Sargsyan answered that Pashinyan does not have the right to talk in the name of the people and left.
During the demonstrators followed by this meeting MPs Nikol Pashinyan, Ararat Mirzoyan and Sasoun Mikayelyan were arrested.