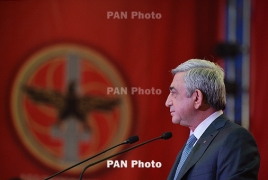 April 26, 2018 - 14:49 AMT
PanARMENIAN.Net - Armenia's ex-president, former prime minister and chairman of the Republican Party (RPA) Serzh Sargsyan proposed the candidacy of acting PM Karen Karapetyan in the post of party chief, Interfax reports.
Sargsyan and Karapetyan on Wednesday evening met the members of the RPA's parliamentary faction to discuss the reasons behind the former PM's decision to resign and the various formats of working in the National Assembly, the statement said.
Sargsyan, in particular, urged his fellow party members to "prioritize internal stability and security of the country, which can be achieved only through the unity of the Republicans."
An opposition leader from Yelk bloc and the founder and head of Civil Contract party, Nikol Pashinyan leads the campaign against the ruling Republican Party of Armenia (RPA).
Prime minister Serzh Sargsyan was forced to resign on Monday, and Pashinyan is now seeking the appointment as prime minister by the National Assembly of what he calls "the people's candidate," the formation of a temporary government and snap parliamentary elections.
Pashinyan and acting prime minister from the ruling party Karen Karapetyan were scheduled to meet on Wednesday, April 25 but the meeting was canceled. Pashinyan urged demonstrators to resume the rally, with the protesters paralyzing traffic on several major avenues and streets in Yerevan and gathering at the Republic Square again.
Later on Wednesday, the ruling Republican Party of Armenia declared it is ready to discuss any issue with all the parties.