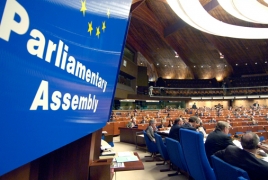 April 27, 2018 - 16:37 AMT
PanARMENIAN.Net - The Parliamentary Assembly of the Council of Europe (PACE) has concluded that corruption allegations involving Azerbaijan and a number of current and former MPs from several European countries are true and has declared a policy of zero tolerance of corruption to 'restore its credibility', OC Media reports.
A resolution was adopted on Thursday, April 26 following a debate in PACE about an internal investigation into corruption within PACE.
According to the investigation, which was prepared by three former judges from the UK, France, and Sweden and published on 22 April, a number of former MPs at PACE received money to lobby for Azerbaijan during PACE's work. The report also said that several current and former members may have engaged in 'corruptive' activities in favour of Azerbaijan.
"The allegations made by non-governmental organisations and by the media through reports, reporting or journalistic inquiries, which had until recently been criticised, challenged or denied, are now indisputable", the resolution reads.
PACE has invited member states' national parliaments and their national delegations to the Assembly, as well as the national governments "to take the necessary measures in respect of the cases mentioned" and report back to the Assembly by the end of 2018.
The Assembly stressed that "although the report deals principally with allegations and facts concerning Azerbaijan, similar practices have clearly also been used by the authorities and parliamentary delegations of other member States".
The majority of 123 MPs voted in favour of the resolution, with 9 MPs voting against, and 10 abstaining. The entire Azerbaijani delegation to the Assembly voted against it, as well as the only MP representing Turkey. One Italian and one Serbian MP also voted against it, with the rest of the Serbian delegation abstaining.
The two members of the Georgian delegation voted in favour of the resolution, while Armenia's MPs were absent during the vote. Russia's voting rights were suspended in 2014.