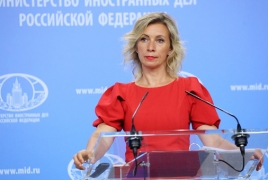 April 30, 2018 - 17:13 AMT
PanARMENIAN.Net - The official representative of Russia's foreign ministry Maria Zakharova has said that relations with Armenia are "special" for Moscow.
Opposition leader and founder and head of Civil Contract party Nikol Pashinyan leads a campaign against the ruling authorities, which has seen thousands of Armenians take to the streets in massive protests.
Prime minister Serzh Sargsyan was forced to resign on Monday, and Pashinyan is now seeking the appointment as prime minister by the National Assembly of what he calls "the people's candidate," the formation of a temporary government and snap parliamentary elections.
In the past two days, all the parliamentary factions have either expressed support for Pashinyan's candidacy -which was announced on Monday-April 30 - as PM or have at least refused to nominate their own candidates for the prime minister's post.
According to her, her previous position on the events in Yerevan was a consolidated point of view of Moscow, and not her personal opinion.
"Taking advantage of the opportunity, I want to wish Armenians wisdom, will and divine providence," Zakharova said.
"And I want to repeat that Russia and Armenia have always had special relations."
On April 23, in the midst of protests, Zakharova said that the people, who have the strength to maintain respect for each other despite categorical disagreements even at the most difficult moments of their history, are a great nation. "Armenia, Russia is always there for you," the diplomat said.