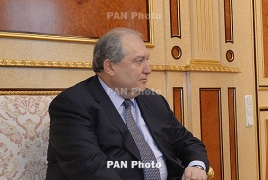 May 1, 2018 - 13:06 AMT
PanARMENIAN.Net - President Armen Sarkissian on Tuesday, May 1 called on Armenians to demonstrate high civil responsibility as "all the world's attention is now focused on Yerevan."
The Armenians in Armenia, Artsakh (Nagorno Karabakh) and the Diaspora, as well as the the entire world are carefully watching the situation in Yerevan, Sarkissian said.
The president urged "sound judgment" and called on the citizens to stay in compliance with the law and the Constitution when taking any steps.
The National Assembly is set to elect a new prime minister on Tuesday after the former was ousted amid massive protests across Armenia just one week after taking up the post.
Opposition leader and founder and head of Civil Contract party Nikol Pashinyan leads a street campaign against the ruling authorities, which has seen thousands of Armenians taking to the streets in massive protests.
Former prime minister Serzh Sargsyan was forced to resign on April 23, and Pashinyan is now seeking the appointment as prime minister by the National Assembly of what he calls "the people's candidate", - i.e. himself - the formation of an interim government and snap parliamentary elections.
In the past several days, all the parliamentary factions have either expressed support for Pashinyan's candidacy - which was announced on Monday - as PM or have at least refused to nominate their own candidates for the prime minister's post.
The ruling Republican Party of Armenia has said they will make a final decision after listening to Pashinyan's speech.
Pashinyan has promised to rid Armenia of corruption and poverty. He called on his supporters to rally on Tuesday as parliament meets for the vote and then gather at Republic Square in downtown Yerevan to celebrate "celebrate their victory, their irreversible victory."