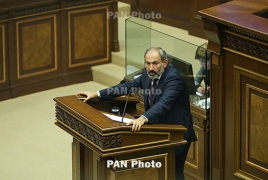 May 3, 2018 - 17:15 AMT
PanARMENIAN.Net - Opposition leader Nikol Pashinyan was nominated for the post of the prime minister of Armenia for a second time on Wednesday, May 3.
As of 4:00 pm Wednesday, pashinyan is the only candidate running for the post.
The parliament failed to elect a prime minister on Tuesday as the ruling Republican Party of Armenia (RPA) voted against Pashinyan's candidacy. The RPA revealed on Wednesday, however, that they will support Pashinyan in the second vote.
Pashinyan, who has been leading protests against the ruling elite for several weeks now, needed more than half of all the votes - the support of 53 lawmakers - to secure the prime minister's spot, but got only 45.
A second vote will be held on May 8, and the candidate needs to collect at least one third of the votes to win.
The founder and head of Civil Contract party and lawmaker from the Yelk bloc, Pashinyan leads the street campaign against the ruling authorities, which has seen thousands of Armenians taking to the streets in massive protests in the past several weeks.
Former prime minister Serzh Sargsyan was forced to resign on April 23, and Pashinyan is now seeking the appointment as prime minister by the National Assembly of what he calls "the people's candidate", - i.e. himself - the formation of an interim government and snap parliamentary elections.
Pashinyan has promised to rid Armenia of corruption and poverty.