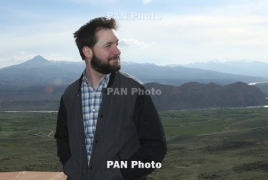 May 10, 2018 - 13:07 AMT
PanARMENIAN.Net - Reddit co-founder and American-Armenian Internet entrepreneur Alexis Ohanian recently cited his Armenian heritage and the "velvet revolution" in the country which saw thousands of people taking to the streets to protest against the ruling authorities for several weeks, actually succeeding as a result.
Cryptocurrency is a fuel for a potentially new Internet, an opportunity to have a store of value that is not backed by a single country, Ohanian told Stephen Colbert on Tuesday, May 8.
"I am Armenian, there was a major, actually bloodless revolution in Armenia which was fantastic," the entrepreneur said while explaining the the role of cryptocurrency in the world and talking about his venture capital firm Initialized Capital on The Late Show with Stephen Colbert.
"In so many states there is uncertainty about government and money, and people see their life savings disappear."
In an Instagram post later, Ohanian tagged Colbert's show and wrote: "Anytime you want to talk #crypto, @initialized, or Armenia — lemme know."
Ohanian's mother was born in Germany, while his father is the son of Armenian immigrants.