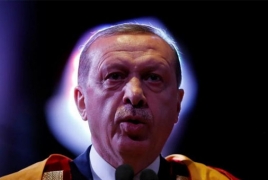 May 17, 2018 - 10:56 AMT
PanARMENIAN.Net - Turkish President Recep Tayyip Erdogan said on Wednesday, May 16 that the United Nations had "collapsed" in the face of events in Gaza where Israeli forces killed 60 Palestinian protesters on Monday as the United States relocated its Israel embassy to Jerusalem, The Jerusalem Post reports.
Turkey has been among the most vocal critics of the Israeli use of deadly force against protesters at the Gaza border and of the U.S. decision to open its new embassy in Jerusalem. It called for an emergency meeting of the Organization of Islamic Cooperation (OIC) in Istanbul on Friday.
Speaking at a dinner on the first day of the Muslim holy month of Ramadan, Erdogan said the majority of the international community had failed to react to the events in Gaza, and warned that remaining silent would mean "opening a very dangerous door."
"In the face of all these events, the United Nations has ended. (It has) become exhausted and collapsed," Erdogan said. "If Israel's bullying is met with more silence, the world will rapidly be dragged into a chaos where thuggery prevails."
The events in Gaza have also sparked a diplomatic row between Turkey and Israel, with both countries expelling each other's senior diplomats on Tuesday.
A bill recognizing the Armenian Genocide returned to the Knesset's agenda on Wednesday after Turkey and Israel withdrew each other's ambassadors over Gaza tensions.