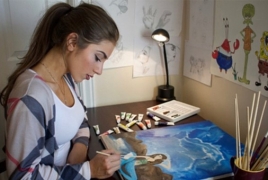 May 18, 2018 - 19:10 AMT
PanARMENIAN.Net - Narine Ishhanov, whose background is Armenian, feels like she still has something to prove. Less than 14 years after she arrived in America knowing just four words of English, the immigrant from Turkmenistan was crowned Miss Utah-USA.
On Monday, May 21, she'll compete for the title of Miss USA and the chance to represent her adopted country in the Miss Universe pageant, The Salt Lake Tribune reports.
"I feel very blessed and grateful for this experience," Ishhanov said. "It almost feels unreal, I'll be honest with you. It's, like, 'Oh, wow! I'm competing for Miss USA!'"
The 24-year-old just graduated from the University of Utah, and she's applying to dental schools. She owns and operates her own trucking company. She's an ambassador for Utah's STEM (Science, Technology, Engineering and Math) Action Center.
So a little thing like appearing on national television (Fox/Ch.) doesn't faze her at all. Ishhanov said she's not nervous going into the Miss USA competition, "which kind of scares me, in a way," she said with a laugh. "I feel like I should be nervous, but I'm more excited.
"I want to show who I am to the world," she said. "And I want to show people that you can be anyone and come from anywhere to represent the state that you love. I want to just explain and show everybody how accepting my state was with me and my family, and how caring and supporting everybody here was."
Ishhanov is clearly driven, and she believes "it comes mostly from my parents. Just watching them work so hard — never taking a break or going on vacations. They don't even know what a vacation is."
Ishhanov was born in Ashgabat, Turkmenistan — formerly part of the Soviet Union. Her father came to the United States in 2000; she, her mother and one of her brothers followed in 2004, when she was 11.
Her mother works in housekeeping at the U. Medical Center; her father is an independent contractor with FedEx.