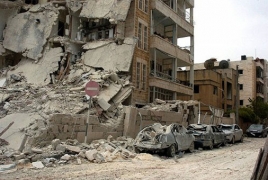 May 25, 2018 - 12:59 AMT
PanARMENIAN.Net - The militants of Hay'at Tahrir Al-Sham have suffered heavy losses in their ranks recently, as mysterious assassinations continue to plague this large group in the Idlib Governorate, Al-Masdar News reports.
According to reports from opposition activists in Idlib, at least three Hay'at Tahrir Al-Sham fighters were killed along the Idlib-Hafasraja Road on Thursday, May 24, when unknown assailants opened fire on their vehile.
Furthermore, a Shariah Law Chief was assassinated in Salqeen on Thursday when another group of unknown assailants fired on vehicle.
The Shariah Law Chief was considered one of Hay'at Tahrir Al-Sham's highest ranking officials in the western countryside of Idlib.
These latest assassinations come just days after Hay'at Tahrir Al-Sham executed four men for allegedly operating a Syrian intelligence sleeper cell in Idlib.