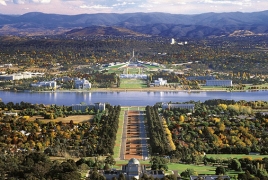 May 29, 2018 - 11:11 AMT
PanARMENIAN.Net - The leading public affairs committees of the Armenian-Australian, Greek-Australian and Assyrian-Australian communities have slammed SBS (Special Broadcasting Service) CEO, Michael Ebeid after he answered Senator Kristina Keneally's probing questions at Senate Estimates, by committing to his Editorial Policy that appeases denial of the Armenian Genocide, which was the systematic attempt by Ottoman Turkey to rid the world of its Armenian, Greek and Assyrian inhabitants during and after World War I.
The Armenian National Committee of Australia (ANC-AU), the Australian Hellenic Council - NSW (AHC) and the Assyrian Universal Alliance - Australian Chapter (AUA) have released a joint statement as descendants of survivors of the 1915 Genocide, targeting the "flippant" responses given by a "stubborn" Ebeid, who continuously downplayed the overwhelming scholarly evidence that proves the genocide as indisputable fact. He also ignored the academic criticism of his earlier defence of this policy.
Following these earlier responses under Senate Estimates questioning by then-Senator Scott Ludlam, Ebeid had received a letter of protest from the International Association of Genocide Scholars (IAGS - the leading world association of recognised genocide scholars), as well a statement signed by a group of 43 Australian-based experts in genocide and human rights, who urged SBS to recognise the Armenian Genocide and report on the events without qualifiers or euphemisms, as per the network's policy when referring to the Jewish Holocaust.
Despite this protest from unimpeachable scholars on genocide, Ebeid responded to Keneally's reference to the letter and statement by stating: "... I have seen that and I have seen that it's been signed by 43 scholars and historians. And I can assure you that I could probably find another 80 scholars and historians that would deny that it was called a genocide."
The joint statement from the ANC-AU, AHC and AUA reads: "With this irresponsible and offensive statement, Mr. Ebeid has questioned the credibility of the International Association of Genocide Scholars, which includes luminaries such as Israel Charny and Roger Smith, while by specifically attacking the statement of the 43 signatories of the Australian statement, he has suggested the likes of Professor The Hon. Gareth Evans, Professor Colin Tatz and Professor Peter Stanley are simply representatives of one side of a two-sided argument on genocide."
"This is simply unacceptable and downright offensive to the the many thousands of the descendants of these crimes against humanity living in Australia. If Mr. Ebeid feels assured that he can find 80 equally credible scholars to those aforementioned, who deny the Armenian Genocide, we would like to see him produce that list. As the CEO of a public broadcaster, it is in the public interest for our leading public