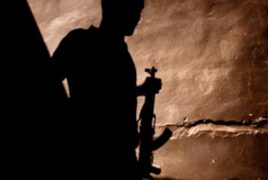 June 6, 2018 - 10:24 AMT
PanARMENIAN.Net - Scores of Syrian Arab Army (SAA) soldiers and Islamic State (IS) terrorists were killed during the 48 hour long battle in southeast Deir ez-Zor past weekend, Al-Masdar News cited a military source as saying.
According to the source, the Syrian army lost 26 soldiers during the battle, with the majority of their casualties coming during the first day of the Islamic State offensive near the border-city of Albukamal.
The source added that the Islamic State suffered over 40 casualties in its ranks, as most of their corpses were left behind during their abrupt retreat from the towns of Jalaa, Saiyal, and Hasarat in southeast Deir ez-Zor.
IS' attack did manage to cutoff the Mayadeen-Albukamal Highway for several hours on Sunday, June 3; however, once Syrian army reinforcements arrived, they were able to retake the initiative and reopen the roadway.
With a looming Syrian army offensive in the Badiya Al-Sham region, the Islamic State has been launching desperate attacks recently in a bid to delay the government's operation.