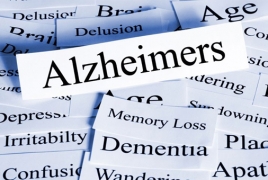 June 11, 2018 - 18:43 AMT
PanARMENIAN.Net - The University of Kansas Alzheimer's Disease Center in Fairway is taking part in a major study involving the sixth-leading cause of death in the United States, KMBZ reports.
About 5,000,000 Americans are affected by Alzheimer's.
The ADNI Study (Alzheimer's Disease Neuroimaging Initiative) is funded by the National Institutes of Health, and is one of the largest and longest-running Alzheimer's disease trials in history. Researchers are studying how quickly tasks like reasoning, and the ability to perform certain functions, change in the aging brain.
Researchers are looking for seniors of all backgrounds, including healthy adults, people with mild memory complaints and people who have been diagnosed with the disease, said Dr. Michael Weiner, an internationally-recognized Alzheimer's expert.
"The purpose of the study is to determine how we use biomarkers like MRI scans and PET scans and blood tests to diagnose and follow the progression of Alzheimer's Disease," Weiner said.
Weiner says the study is very important for developing clinical trials so they can find the best treatments.