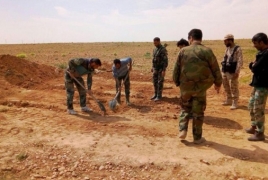 June 14, 2018 - 14:56 AMT
PanARMENIAN.Net - The Syrian Arab Army (SAA) has agreed to extend the deadline for the rebels to submit their answer regarding whether or not they will reconcile with the government in southern Syria, Al-Masdar News reports.
Initially, the deadline was set for Thursday, June 14, but as reported on Wednesday, the date would likely be pushed back as the Syrian Army negotiates with the Al-Quneitra town elders and community leaders.
While the Syrian army is fully prepared to launch their Al-Quneitra offensive, they will attempt to secure a reconciliation agreement in order to avoid a long operation against the rebel forces.
The rebel forces in both Dara'a and Al-Quneitra have already indicated that they are not willing to reconcile with the government; however, the Syrian military is attempting to convince the town elders in both provinces to pressure these militants into accepting a deal .
The government's main priority at this point is reopening the Nassib Crossing in southern Dara'a, so if they can secure an agreement with the rebels to open the site, this could delay the offensive for much longer.