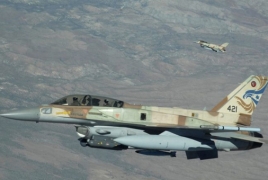 June 15, 2018 - 11:20 AMT
PanARMENIAN.Net - Two Israeli firms have revealed their new high-speed standoff air-to-ground missile that will allow the country's air force "to strike under conditions we've never had before," according to one of the designers, Al-Masdar News says.
"Sending four fighter jets carrying four Rampage missiles [each] allows us to strike under conditions we've never had before," Eli Reiter of Israel Military Industries (IMI) Systems told YnetNews on Monday.
The missile, designed for Israeli Air Force F-15, F-16 and F-35 aircraft, can travel up to 90 miles at supersonic speed after being fired from an IAF aircraft, according to a joint June 11 news release from IMI Systems and Israel Aerospace Industries. The Drive reports that the missile is derived from the ground-launched Extended Range Artillery guided rocket.
The missile is guided by an onboard global positioning system that helps the projectile navigate in any weather conditions at any time of day, which the designers say makes it an ideal weapon for striking high-value targets as tensions roil in the Middle East.
"If you take the Middle East arena and areas protected by air-defense systems, the whole point of this missile is that it can hit targets within standoff ranges" and minimize threats to the aircraft launching the missile, Amit Haimovich of IAI told the Jerusalem Post June 12. The missile is a preferred choice for striking targets such as command posts, air fields, maintenance depots and related equipment that is protected by anti-aircraft systems, the newspaper noted.
The missile has been tested by the IAF over the past year and is expected to be mass produced in 2019 when the weapon will become available for sale to international buyers, the JPost noted.