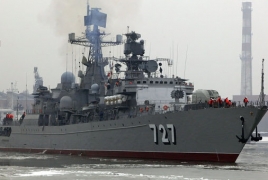 June 18, 2018 - 13:03 AMT
PanARMENIAN.Net - A group of Russian warships were seen traveling this past weekend through the Bosphorous Strait en route for the Syrian port-city of Tartous, Al-Masdar News reports.
According to Yoruk Isik of the Bosphorous Observer, the Russian warships, which form part of the Caspian Buyan M-class corvettes, Veliki Ustyug 651 (x-023) and Grad Sviyazhsk 652 (c-021), made their way to the Bosphorous Strait this past weekend before continuing their journey to the Port of Tartous.
As Isik mentioned in his tweets, the two warships are armed with SS-N-30/Kalibr 3M-14 cruise missiles.
The move by the Russian Navy comes just days after the Vladimir Putin announced that all naval vessels in Syria's waters will have Kalibr cruise missiles.
Since Putin made the announcement, the Russian Navy has launched some cruise missile attacks against the jihadist rebels in the Idlib Governorate.
In particular, the Russian Navy targeted the positions of Hay'at Tahrir Al-Sham near the provincial capital of the Idlib Governorate; this is due to the fact the latter repeatedly attacked the besieged Shiite towns of Al-Fou'aa and Kafraya.