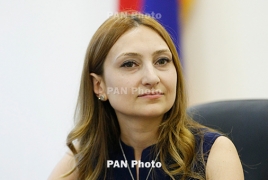 June 22, 2018 - 11:19 AMT
PanARMENIAN.Net - In her first official visit to Los Angeles, new Minister of Culture for the Republic of Armenia, Lilit Makunts will visit Glendale and discuss Armenia's cultural revolution in a public talk to be held at the Downtown Central Library Auditorium in Glendale on June 29.
The presentation will will focus on recent cultural developments and her vision for the future. This will be followed by a public question and answer session, facilitated by Alec Mouhibian, Vice President of Productions & Programs for Creative Armenia.
Makunts was appointed Minister of Culture on May 12, 2018, as part of the newly-established government of Armenian Prime Minister Nikol Pashinyan. Armenian President Armen Sarkissian signed a decree to appoint Makunts based on the request of the Prime Minister.
"Glendale is honored to be hosting this event for Minister Makunts. I am proud that she has chosen to announce her vision for Armenia to the diaspora in our City," said Mayor Zareh Sinanyan.
Previously, Makunts was a professor at the Russian Armenian University in Yerevan, and the head of Russian Armenian university department of International Cooperation. She holds a PhD in Philological Sciences. She has also worked as a contract specialist for the American Peace Corps and, since her student days, has been actively engaged in civic and political initiatives to promote democratic changes in Armenia.