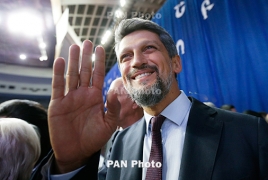 June 25, 2018 - 11:26 AMT
PanARMENIAN.Net - Two lawmakers of Armenian origin were re-elected to parliament in Turkey's twin presidential and parliamentary polls on Sunday, June 24.
In particular, Garo Paylan from the pro-Kurdish Peoples' Democratic Party (HDP) and Markar Esayan from the ruling Justice and Development Party (AKP) secured spots in the parliament of 27th convocation.
Paylan is a founding member of the HDP and is a deputy representing the third district in Istanbul. Paylan is also a member of Turkey's Armenian community and has long been an activist on human rights and Kurdish and Armenian issues.
Prior to being elected to Turkey's parliament in 2015, Paylan served on the central committee of HDP and also served on the management of Armenian schools in Istanbul. He has long promoted bilingual education and minority rights in Turkey and has been actively engaged in raising awareness on discrimination toward minorities, the rights of the Armenian community in Turkey, Turkish-Armenian reconciliation, and especially the Hrant Dink murder case. Paylan is from a family originally from Malatya.
Born in 1969, Esayan started his career in journalism in 1997 in Armenian language daily Agos, where he started writing columns in 2001. Esayan later started collaborating with Taraf daily as an editorial coordinator and later the editor-in-chief. Since 2013, Esayan has been writing for Yeni Şafak daily.
On Sunday, Recep Tayyip Erdogan was re-elected as Turkey's president, while an alliance led by his ruling party also won a majority in parliament. The Supreme Election Committee will announce final results on Friday.