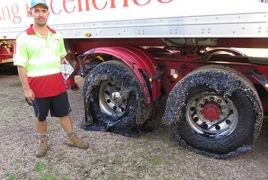 July 6, 2018 - 13:51 AMT
PanARMENIAN.Net - Traffic authorities in Australia had to close a road in Queensland after it began to melt, damaging cars that crossed it and began sinking, Newsweek reports.
As many as 50 people could be due compensation after the recently resurfaced Malanda Millaa Millaa Road near Tarzali began to shed bitumen, a type of asphalt, and coat the rolling tires of vehicle after vehicle with inches of the substance. After receiving several complaints, the Department of Transport and Main Roads (TMR) announced the closure of the road in the Atherton Tablelands on Wednesday and started emergency repairs.
"I was absolutely horrified to find that there was three inches of bitumen coated around all four wheels of my vehicle," Bridget Daley, a motorist who lost a mudguard bar thanks to mounting bitumen on her wheels, told national broadcaster ABC. "It was like we were insects caught in a spider's web and we were sinking.
"There were people that were pulled up on the side of the road and they were in total and complete disbelief as to what had happened to their vehicles," she added.
Nearby resident Deborah Stacey told News Corp Australia that as soon as midday, the road surface turned to glue. "There was emulsion everywhere; a lot of soft tar sprayed in big globs and sticking to trucks wheels," she said. "We had a week of cracked windscreens, RACQ have been doing three to four a day, then as soon as the sun came out, it started sticking," she said.
"Not at any stage did anyone stop the vehicles from coming through," one unfortunate driver told Yahoo News. A few dozen vehicles reportedly struggled down the sticky road before workers closed it once again.