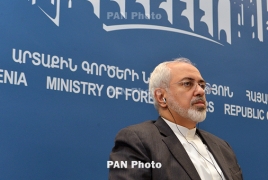 July 18, 2018 - 11:27 AMT
PanARMENIAN.Net - Iran's foreign minister urged the European Union to put its verbal commitment to the nuclear deal into action, IRNA reports.
Mohammad-Javad Zarif in an interview with Euronews said, 'What we need from the Europeans is both the political commitment, which they have made, now we need to see the measures in place on the ground, not simply in writing, not simply in words — in the banking sector, in the investment sector, in the energy sector, in the transportation sector, in the SME sector.'
He made the remarks in reference with the vows EU has made on backing the nuclear deal, according to the interview published on Wednesday, July 18.
Iran and the five permanent members of the UN Security Council (the US, France, Britain, China, and Russia) plus Germany signed the nuclear deal in 2015. Iran accepted to curb its nuclear program in exchange for economic sanctions relief.
The US President Donald Trump withdrew from the deal in May, calling it the worst deal ever. Washington has also re-imposed the economic sanctions the first set of which will take effect on August 6.
Referring to the power and influence of Europe, he said, 'We believe that it should be more active in regional peace and security, in international peace and security as well as in promoting a greater cooperation and dialogue'.
The senior Iranian diplomat affirmed that the country would continue its cooperation with Russia and Syrian government on fight against terrorism and extremism.
Blaming the US President Donald Trump for 'supporting Daesh', FM Zarif said, 'The fact that US arms, US weapons have been found in the hands of ISIS and other extremist organizations is documented, is documented by Western sources. So I think we should look at the realities, those who fought terrorism, those who fought extremism are Syrian people and those who work with Syria people.'