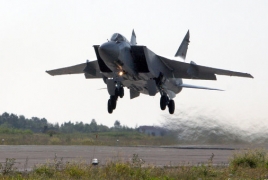 July 23, 2018 - 09:22 AMT
PanARMENIAN.Net - The Russian Aerospace Forces have been active over southwest Syria on Monday, July 23 morning, hitting several areas controlled by the Islamic State (IS) group in the Yarmouk Basin region, Al-Masdar News says.
According to a field report from the Daraa Governorate, the Russian Aerospace Forces conducted over 15 airstrikes on the Yarmouk Basin region, resulting in the destruction of a number of Islamic State trenches and installations.
The Russian Aerospace Forces also targeted the Islamic State's positions near the Syrian Arab Army's (SAA) front-lines in a bid to pave the way for the latter to advance deeper in the rural region in the southwest of the Daraa Governorate.
Since early morning, the Syrian Arab Army has been actively pushing to break through the Islamic State's lines at the northeastern corridor of the Yarmouk Basin region.
However, they have yet to score any significant advances in this area, as they have faced heavy resistance from the ISIS-affiliated "Jaysh Khaled bin Walid" forces near the town of Tafas.
Over the last few days, the Syrian Arab Army and Jaysh Khaled bin Walid have been immersed in a series of intense battles in the Yarmouk Basin region that have led to heavy casualties for all parties involved.
Unlike the rebel forces that previously controlled a large part of Daraa, the Islamic State terrorists will not be offered any reconciliation terms that might speed up this battle.
As a result, the Syrian army will have to militarily defeat the Islamic State in southwest Daraa in order to retake the Yarmouk Basin region.