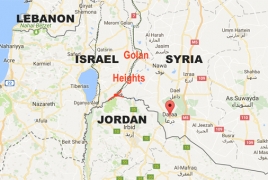 July 26, 2018 - 16:55 AMT
PanARMENIAN.Net - The Islamic State (IS) affiliated Jaysh Khaled bin Walid is hanging on by a thread in the Yarmouk Basin region of southwest Syria as their troops continue to fall back towards the borders of Jordan and the Golan Heights, Al-Masdar News reports.
Backed by heavy airstrikes, the Syrian Arab Army (SAA) continued their large-scale advane in southwest Syria on Thursday, July 26 morning, liberating several sites that were occupied by Jaysh Khaled bin Walid.
According to a military source, the Syrian Arab Army and National Defense Forces (NDF) liberated the towns of Sheikh Hussein, Kokab, Shabraq, Luwayhiq, and Masirtiya after a fierce battle with the terrorists.
At the same time, the Syrian Arab Army's elite 4th Armored Division is attempting to capture the town of Musayri'ah along the Jaleen axis; the battle has been taking place for several days now.
A source from the Syrian Army said on Thursday afternoon that the military is attempting to break up the Yarmouk Basin region in order to isolate Daesh at different pockets.
This similar military strategy was deployed by the Syrian Arab Army at the battles of 'Uqayrbat, Deir ez-Zor, and southern Damascus; it ultimately forced IS to surrender, as their supply lines were cutoff.