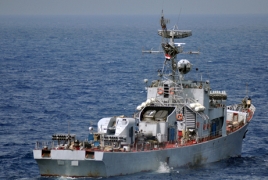 August 1, 2018 - 12:50 AMT
PanARMENIAN.Net - A Syrian government flagship made a mysterious stop at a Turkish port in the Sea of Marmara on Tuesday, July 31, Yoruk Isik of the Bosphorous Observer reported, according to Al-Masdar News.
According to Isik, the Syrian General Authority for Maritime Transport, SYRIAMAR, made a short stop at the Turkish Port of Hereke in the Gulf of Izmit on Tuesday.
The SYRIAMAR ship was sanctioned by the U.S. Treasury on August 3, 2015.
The reason for this brief stop is still unknown.
Turkey and Syria currently have no diplomatic ties, despite attempts by Iran and Russia to repair the relations between these neighboring countries.