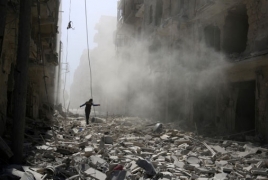 August 2, 2018 - 16:38 AMT
PanARMENIAN.Net - Several militants from the defeated Islamic State were reportedly killed by an Israeli fire near the Syrian borders while attempting to sneak into the Golan Heights, AL-Masdar News reports.
"The Israeli army carried out an attack overnight Wednesday against armed militants in Syria's Golan Heights who were found with explosives", the army said.
The Israeli Defense Forces issued an official statement saying they are 'on high alert' and ready to protect 'Israeli residents in northern region'.
Some members of the group refused to surrender themselves to the Syrian Army following their massive defeat in Yarmouk Basin region.
Those attempted to fled to the Israeli-controlled Golan Heights by were obviously spotted and dealt with.
According to sources, up to 7 militants were killed in the process.
Meanwhile, the Jordanian military also declared it has killed scores of ISIS militants who attempted to sneak into the country from east Swaida region.