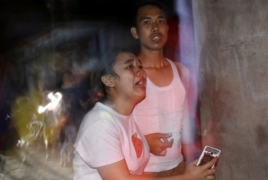 August 6, 2018 - 10:59 AMT
PanARMENIAN.Net - The Armenian Foreign Ministry expressed condolences on Monday, August 6 over a powerful earthquake that hit the Indonesian island of Lombok in Indonesia on Sunday.
At least 91 people are now known to have died and hundreds of people have been wounded by the quake, officials say.
"We extend our deepest sympathies to the families of the victims and all those affected by the earthquake in Lombok Island." The Foreign Ministry said in a tweet.
"We wish a speedy recovery to the injured. Our thoughts are with the people of Indonesia."
The 6.9 magnitude tremor was fairly shallow, occurring only 30km (18 miles) underground. It damaged thousands of buildings and triggered power cuts, the BBC said.
Video footage from Bali, to the west of Lombok, showed people running from their homes screaming.
There have been more than 130 aftershocks since the quake hit on Sunday morning.
A tsunami warning was issued but was lifted after a few hours.
It comes a week after another quake hit Lombok, popular with tourists who visit its beaches and hiking trails. That quake killed at least 16 people.