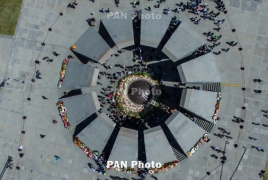 August 6, 2018 - 11:54 AMT
PanARMENIAN.Net - The Green Party is calling on New Zealand's Parliament to officially recognize the Armenian Genocide, TVNZ reports.
Armenian Kiwis too say it's time for New Zealand to take a strong stance.
"We've seen history repeat itself on many occasions and this will continue if we don't recognize our past," Hoory Yeldizian, chairperson of the Armenian National Committee of New Zealand said.
Green MP Gareth Huges plans to put forward a motion in Parliament to change that.
"I'm asking all of Parliament to support it. It has a link to our history," he said, according to 1 NEWS.
At her post-Cabinet press conference on Monday, August 6, Prime Minister Jacinda Ardern said New Zealand has always acknowledged a significant loss of life.
Historians put down the first round-up of Armenians as beginning on April 24 1915; the day before the Gallipoli landings.
Experts say that historic link is exactly why New Zealand should call it a genocide.
"New Zealand soldiers recorded the genocide in their memoirs and in their diaries and then brought those stories back home with them," historian James Robins said.
A documentary, "Intent to Destroy", will be screened in the New Zealand Parliament theatrette on Monday evening and visiting experts and Armenian Community members will hold discussions following the screening.
On April 24, Armenians worldwide commemorated the 103rd anniversary of the Genocide which began in the Ottoman Empire in 1915 and continued until 1923. Some three dozen countries, hundreds of local government bodies and international organizations have so far recognized the killings of 1.5 million Armenians in the Ottoman Empire as Genocide. Turkey denies to this day.