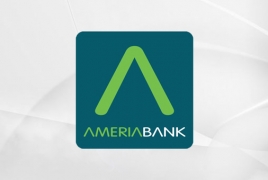 August 7, 2018 - 10:28 AMT
PanARMENIAN.Net - Moody's Investors Service, ("Moody's") has today assigned the following ratings to Armenia-based Ameriabank CJSC (Ameriabank): B1 long-term and NP short-term local- currency bank deposit ratings, B2 long-term and NP short-term foreign currency bank deposit ratings, b1 baseline credit assessment (BCA) and adjusted BCA, Ba3 long-term and NP short-term Counterparty Risk Ratings (CRR) and Ba3(cr) long-term and NP(cr) short-term Counterparty Risk Assessments (CR Assessment).
The long-term local currency deposit rating B1 carries a positive outlook, driven by the positive outlook on the B1 government debt rating, while the long-term foreign currency deposit rating B2 is constrained by Armenia's foreign-currency deposit ceiling and carries a stable outlook.
The B1 long-term local currency deposit rating assigned to Ameriabank incorporates its b1 BCA which reflects the bank's: (1) diversified business profile and strong positions on its domestic market, (2) Improved asset quality indicators and good loss absorption capacity -- evidenced by its robust capital buffers, good profitability and adequate problem loans coverage, (3) sufficient liquidity and diversified funding base. At the same time, Ameriabank's BCA is constrained by Armenia's Macro-profile 'Weak', and material exposure to foreign currency loans.
Moody's expects Ameriabank's asset quality to remain generally stable in the foreseeable future, supported by improving economic conditions and Moody's expectation that local currency will remain stable in 2018-2019. Ameriabank's current asset quality indicators are robust with problem loans (which include impaired corporate loans, plus retail loans overdue by more than 90 days) decreased to 3.9% of gross loans as of 31 March 2018 from 4.1% as of end- 2017. Coverage of problem loans by loan loss reserves improved to 87% in Q12018 from 57% at YE2017.
In addition, exposure to foreign-currency denominated loans accounted for high 82% of total loans as of end-2017, a level that renders asset quality vulnerable to potential FX volatility. However, a substantial part of the bank's FX borrowers are naturally hedged exporters that generate foreign-currency revenues, which partly mitigates FX implied credit risk.
Ameriabank benefits from its diversified shareholder's structure and access to capital in case of need. Its capital position was recently strengthened by a Tier 1 capital injection of US$30 million from Asian Development Bank. The bank reported regulatory total CAR of 14.05% as at end-March 2018 while the ratio under Basel I stood at higher level of around 19%.
For Q12018, the bank reported net profit of AMD2.56 billion (a 56% increase from AMD1.6 billion reported for Q12017) which translated to annualized return on average assets of 1.5% and return on equity of 13.4%. Moody's expects improving profitability trend to sustain over the next 12-18 months because the bank's lending strategy will be more focused on gradual development of higher-yielding retail franchise.
Ameriabank's liquidity and funding profiles will remain stable over the next 12-18 months and will be supported by good funding diversification, healthy buffer of liquid assets and access to alternative liquidity such as funding from IFIs. Customer funds account for around 64% of the bank's liabilities, half of which are retail deposits. In addition, the bank maintains sufficient level of liquidity cushion comprising from cash and government securities which exceeded 22% of total assets at Q12018.
Ameriabank's long-term global local currency (GLC) deposit rating of B1 incorporates Moody's assessment of high probability of government support in the event of need, which is based on the bank's systemic importance given its large client base, notable market position, including approximate 17% market share in loans to customers and 13% in customer deposits. However, this support currently does not provide any rating uplift to Ameriabank's GLC rating as Armenia's B1 sovereign rating is at the same level as the bank's BCA.
The outlook on the bank's local currency deposit rating of B1 is positive, driven by the positive outlook on the B1 government debt rating.