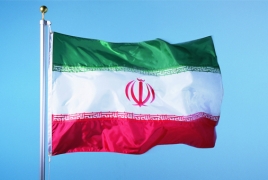 August 7, 2018 - 11:55 AMT
PanARMENIAN.Net - High Representative of the European Union for Foreign Affairs and Security Policy vowed that the EU will shield its companies against the U.S. re-imposition of sanctions against Iran, IRNA reports.
"We are determined to protect European economic operators engaged in legitimate business with Iran, in accordance with EU law and with UN Security Council Resolution 2231," European External Action Service (EEAS) quoted Federica Mogherini as saying in a joint statement with Foreign Ministers of France, Germany and the UK on Monday night.
"Following the US unilateral withdrawal from the Iran deal, the EU and its Member States have been working together on a set of measures, including the Blocking Statute, to protect the legitimate economic interests of EU companies," EEAS reported.
After Washington's May 8 exit from the landmark Iran Deal formally known as the Joint Comprehensive Plan of Action (JCPOA), the US gave 90 to 180 wind-down period to other countries before it starts re-imposing oil sanctions on Tehran on November 4.
"The lifting of nuclear-related sanctions allowing for the normalisation of trade and economic relations with Iran constitutes an essential part of the Iran Deal."
Part of the US illegitimate sanctions are to be imposed on Iran as of August 7.
Stressing on the importance of Iran nuclear deal, Mogherini said "Iran Deal is a key element of the global nuclear non-proliferation architecture, crucial for the security of Europe, the region, and the entire world. The EU is fully committed to the continued, full and effective implementation of the deal, as long as Iran also respects its nuclear-related commitments."
"The Iran Deal has been delivering, namely to ensure that the Iranian programme remains exclusively peaceful, as confirmed by the International Atomic Energy Agency (IAEA) in 11 consecutive reports," the statement reads.
Under the JCPOA, Iran undertook to put limits on its nuclear program in exchange for the removal of nuclear-related sanctions imposed against Tehran.