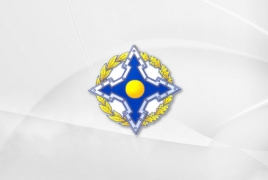 August 9, 2018 - 10:14 AMT
PanARMENIAN.Net - Joint tactical exercises by the rapid reaction forces of the Collective Security Treaty Organization, Rubezh (Boundary)-2018, will be held in late October at a mountainous firing range in Tajikistan, the Central Military District's press service said.
"The Central Military District's delegation is taking part in the second round of talks in Dushanbe on preparing to hold the Rubezh-2018 drills. The talks involve representatives of the CSTO allied staff, delegations of the Armed Forces of Kazakhstan, Kyrgyzstan, Russia and Tajikistan," the press service said.
The Harbmaydon range is located 15 km from the Tajik-Afghan border. Russia will be represented by the Central Military District at the exercises.
At the talks the sides will discuss a tentative plan of the drills, support issues and will examine the area and infrastructure where the upcoming exercises will be held. "The talks between the staff will end on August 9 with the signing of a final protocol by the delegations' heads," it said.
In 2016, the Rubezh drills were held in the mountainous areas of another Central Asian republic of Kyrgyzstan. More than 1,000 troops of Kazakhstan, Kyrgyzstan and Russia took part in the maneuvers.
The CSTO, formed in 1992, consists of six members, namely, Armenia, Belarus, Kazakhstan, Kyrgyzstan, Russia and Tajikistan.