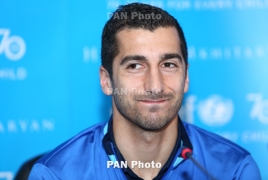 August 9, 2018 - 16:57 AMT
PanARMENIAN.Net - Arsenal will have lineup questions galore for the opening week, but Henrikh Mkhitaryan shouldn't be one of them. He has to start, Fansided says.
Arsenal's attack is bursting with class talent. And not just "well, he could be good if the right parameters are met" talent. These are guys who would start just about anywhere else. They are called the "Fab Four" and, as it stands, there is a question regarding how you fit all of them into the same formation.
"If a 4-3-3 is the chosen formation, then you really can't. Not without sacrificing some midfield solidity. If you go for a 4-4-2, it's still dicey, but maybe a bit less dicey, depending on player responsibilities," author Josh Sippie says.
"All in all, of the "Fab Four," I think most people would reckon that Henrikh Mkhitaryan is the fourth of the four, per say, the one that most often falls in the "if you have to sacrifice one, sacrifice him" slot.
"What does that mean? It means that Mkhitaryan is more capable of controlling things, of taking the ball, living in the spotlight, and making a clear and present impact on the proceedings of any given game.
"Ozil is not that type. He is a shadow dweller, for lack of a better term, someone who doesn't want to be in the spotlight. He'd rather do his thing when his thing is there for the doing, but Mkhitaryan is far keener to press the envelope.
"Against teams like Manchester City, the more influencers you can employ, the better. You cannot sit Mkhitaryan against Manchester City and you really shouldn't be sitting him very often at all. I don't care who it gets in the way of.
"There will come clashes throughout the year where someone gives way. It's inevitable. And we have yet to see how the internal competition pans out, but going into the season, Mkhitaryan needs to be out there, flexing his stuff until he becomes a liability, which doesn't seem likely to happen.
"But if it does, then you can talk about dropping him. Until then, this guy needs to be out there. No questions asked."