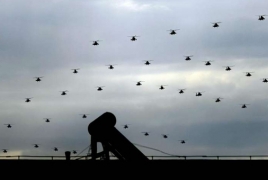 August 20, 2018 - 11:28 AMT
PanARMENIAN.Net - The Chinese military will not be deploying to Syria, despite some previous claims, the Chinese Special Envoy for Syria, Xie Xiaoyan said on Monday, August 20 morning, according to Al-Masdar News.
"Recently, some media speculations that China is going to involve in the Syrian conflict emerged. That is a false picture of the Chinese policy. These Arab media, which issued the relevant material, later explained that China had no military presence in Syria. China is strongly advocating settlement of the conflict only by peaceful means … China has never sent its troops to Syria," Xie told reporters.
Xie stressed that China was strongly opposing any form of terrorism and calling for the boost of the international anti-terror cooperation.
In early August, Al-Watan released their interview with the Chinese Ambassador to Syria, which detailed his country's commitment to helping fight terrorism inside the country.
While China is not sending troops to Syria, they are planning to take an imperative role in the reconstruction of the country. "We hope that the international community will put much attention to the post-war reconstruction of Syria and take part in this process as it is not an issue of one or two states. Moreover, it is necessary to ensure basic security to start the reconstruction works," Xie told reporters.
He pointed out that the key goal at the moment was to restore peace and stability in the country. "All the parties must take efforts in order to launch the relevant work," Xie added.