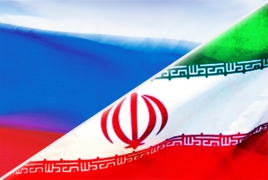 August 22, 2018 - 13:16 AMT
PanARMENIAN.Net - Russia will keep developing military, defense and anti-terrorism cooperation with Iran, Russian First Deputy Defense Minister Col. Gen. Alexander Fomin said, according to TASS.
"We are satisfied with the level and scope of our cooperation in the military and military-technical spheres. I'm sure that we will further develop those types of cooperation with regard to existing international oblifations," Fomin said on Tuesday during talks with Iranian Deputy Defense Minister Brigadier General Qassem Taqizadeh on the sidelines of the Army-2018 forum.
The Russian official also noted the two states' cooperation in the fight against international terrorism.
"In some regions, we jointly support anti-terrorism efforts, which is of course the right and justified thing to do. The world is very fragile, and the fight against terrorism is among the priorities of our cooperation. This threat should not be underestimated, we need to boost our cooperation and team up in the fight against this evil," Fomin said.
The Russian deputy defense minister also mentioned the recently signed Convention on the legal status of the Caspian Sea.
"We were honored to take part in an outstanding event - the signing of an important document among the five Caspitan states, which took 25 years to be drafted. Despite differences, our presidents eventually managed to sign this deal," he said.
Fomin thanked his Iranian colleagues for their country's participation in all major events organized by the Russian Defense Ministry, including the International Army Games and the Army-2018 defense forum.
In response, Taqizadeh said he was pleased by the progress in defense cooperation between the two states. According to the Iranian official, the Russian-Iranian cooperation develops dynamically not only in the bilateral format, but also on the regional and multilateral levels.