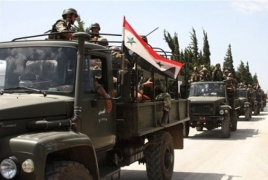 August 22, 2018 - 17:03 AMT
PanARMENIAN.Net - The commander of Hay'at Tahrir Al-Sham has vowed to his that there will be no deals with the Syrian government in the Idlib province, Al-Masdar News reports.
Citing Daraa as an example, Abu Mohammad Al-Jolani of Hay'at Tahrir Al-Sham stated during his recorded speech that his forces will fight till the end against the Syrian government forces.
Over the last few days, Hay'at Tahrir Al-Sham has been raising trenches across the front-lines in the Latakia, Idlib, and Hama governorates in preparation for the Syrian Arab Army's (SAA) large-scale offensive.
Jolani was also recently photographed visiting the front-lines in the northern countryside of the Latakia Governorate.
The HTS commander was pictured touring the strategic town of Kabani, which is located along the eastern slope of the Kurdish Mountains (Jabal Al-Akrad).
The long-time militant commander has often made similar visits and vows to his followers (e.g. Aleppo 2016); however, he would later disappear once his forces started to lose ground to the Syrian government troops.