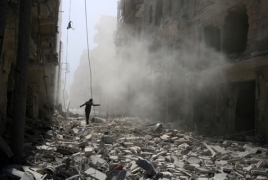 August 25, 2018 - 10:23 AMT
PanARMENIAN.Net - The US policy of putting pressure on Russia has crossed the "red line," and Moscow should think about an asymmetric response, such as the deployment of its tactical nuclear weapons abroad, a senior Russian lawmaker said Fridau, August 24, according to TASS.
"I believe that now Russia has to draw its own 'red lines.' The time has come to ponder on variants of asymmetric response to the US, which are now being suggested by experts and are intended not only to offset their sanctions but also to do some retaliatory damage," said Vladimir Gutenev, the first deputy head of the economic policy committee of the State Duma, the lower chamber of the Russian parliament.
Among such measures, the official named the deployment of Russian tactical nuclear weapons in other countries, such as Syria, the use of gold-linked cryptocurrencies for Russian arms exports and the suspension of a number of treaties with the United States, including on non-proliferation of missile technologies.
"It's no secret that serious pressure is being put on Russia, and it will only get worse. It is intended to deal a blow to defense cooperation, including defense exports. We see that the Americans now speak about the possibility of sanctions against the countries that purchase Russian weaponry… We should follow the advice of certain experts, who say that Russia should possibly suspend the implementation of treaties on non-proliferation of missile technologies, and also follow the US example and start deploying our tactical nuclear weapons in foreign countries. It is possible that Syria, where we have a well-protected airbase, may become one of those countries," Gutenev said.