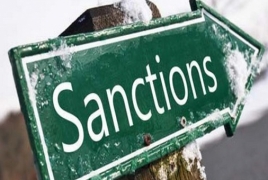 August 27, 2018 - 13:05 AMT
PanARMENIAN.Net - Iran opened a lawsuit Monday, August 27 demanding the UN's top court order the suspension of renewed U.S. sanctions which it says are devastating its economy, AFP reports.
The Islamic Republic says U.S. President Donald Trump's decision to reimpose sanctions over its nuclear programme aim to bring it "to its knees" and are in breach of a 1955 treaty.
Sanctions had been lifted under a 2015 multilateral agreement in return for Iran committing not to pursue nuclear weapons.
But Trump reimposed unilateral sanctions three weeks ago. He said they were needed to ensure Iran never builds a nuclear bomb.
A second wave of punitive measures are due to hit Iran in early November, targeting its vital energy sector including oil exports.
Judges at the International Court of Justice in the Hague opened hearings with the Islamic Republic's lawyers due to make their opening arguments.
The U.S. measures have added to Iran's economic woes, helping to fuel strikes and protests from across the country and political spectrum.
In the latest blow, Iran's parliament impeached Economy Minister Masoud Karbasian on Sunday.
Tehran filed its case before the ICJ in late July, calling on the Hague-based tribunal's judges to order the immediate lifting of sanctions pending a definitive ruling.
It said the sanctions would cause it "irreparable prejudice". It argues they breach the 1955 Treaty of Amity and Economic Relations between Iran and the United States.
"The current U.S. Administration is pushing the sanctions to their maximum with the sole aim of bringing Iran to its knees," Iran's lawyers said in the court filing.
"The USA is besieging Iran economically, with all the dramatic consequences that a siege implies for the besieged population."