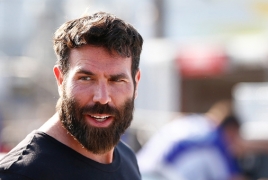 August 31, 2018 - 11:28 AMT
PanARMENIAN.Net - Dan Bilzerian, the social media celebrity with the lavish lifestyle known as the "King of Instagram," has said that he thinks the arrest warrant issued by Azerbaijan was "politically motivated", People reports.
The Investigative Department of the Prosecutor General's Office of Azerbaijan has initiated a criminal case against Bilzerian for "illegally visiting Nagorno Karabakh". Authorities allege that Bilzerian illegally acquired grenades and firearms before "demonstratively" opening fire at a shooting range.
"They only issued the warrant for my arrest, and nobody else on the trip," he says. "I think it's because I am a public figure and they want to try to make an example out of me."
It appears that the country of Armenia is supporting Bilzerian.
The Consulate General of Armenia revealed meanwhile that the nation has contacted Interpol and urged them to dismiss Azerbaijan's prosecution of Bilzerian as political.
Bilzerian vows to fight the charges, but says he's focused on his work at Ignite - a producer of cannabis products that are sold in licensed dispensaries in states where its sale is legal - where is CEO.
He says he has "no interest in ever going to Azerbaijan."
Bilzerian, who is of Armenian descent, arrived in the capital city of Yerevan on Monday, August 27. He and his brother took part in a naturalization ceremony where they became Armenian citizens. Per the laws of the country, he also registered for military service.