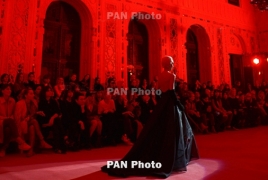 September 4, 2018 - 12:26 AMT
PanARMENIAN.Net - With the support of Business Armenia, 14 companies will represent the Armenian textile industry and its export potential at the CPM – Collection Premiere Moscow International Fashion Trade Expo to be held on September 4-7.
CPM is the largest fashion industry expo in Western Europe. Over 25,000 brands (including world-famous ones) will participate in the expo to unveil more than 1280 clothing lines from 30 countries around the world.
The Armenian textile industry will be presented in two pavilions: 4 underwear producing companies will take one pavilion, while the remaining 10 companies will takethe other one.
"Representatives of famous brands and fashion designers take part in the expo. This time we are aiming to sign more deals by connecting fashion and textile, which means that we not only represent our textile producers but also show that our companies are ready to handle fashion orders," said the head of Events Department of Business Armenia, Markus Azadian.
Previously, with the support of Business Armenia and UN Industrial Development Agency (UNIDO) desk in Armenia, the country's textile producers have taken part in the CPM - Collection Premiere Moscow fashion expo by representing the collective brand 5900BC.